While he may be best known for his role of Michael Scott on the former long-running television sitcom,
The Office
, Steve Carell has more than proven his capabilities as a big-screen actor. And with Carell's second notable, and most recent, role of the year making its way to select theaters, in Richard Linklater's
Last Flag Flying
, I'm devoting November's Movie List of the Month to Carell's career-best work. Here's a look at the actor's finest performances:
Honorable Mention:
The 40 Year Old Virgin
,
Battle of the Sexes
,
Crazy Stupid Love
,
Dan in Real Life
and
Seeking a Friend for the End of the World
#5. The Way Way Back (2013)


Although Nat Faxon and Jim Rash's little-known indie gem hasn't reached nearly as many screens as most of the other films on this list, The Way Way Back offers a rare perspective for this typically lovable actor. Carell co-stars as Trent, a single man courting the mother of the film's main protagonist, Duncan. As the teen and his mom join Trent for a summer at the shore, Carell illustrates how well he can play a conniving and unlikable character, psychologically abusive toward the teen and downright two-faced behind the boy's mom's back. The Way Way Back stands as a true testament to Carell's ability to extend far beyond his comfort zone, making him a bona-fide talent in contemporary Hollywood.
#4. Little Miss Sunshine (2006)



Most of Carell's top performances are more recent, yet the role that opened all of our eyes to his immense talents occurred in the indie Best Picture Nominee Little Miss Sunshine. In the film Carell plays a suicidal uncle, evident by the bandages wrapped tightly around both of his wrists, who joins his unconventional family on a road-trip to his niece's beauty pageant. The emotion oozes out of Carell's every word and action, painting a truly bleak picture that manages to stay with the audience long after the credits role. Ever since this exceptionally eye-opening role, Carell has transitioned his career into one that commands award season attention with regularity. And for that we all should be grateful for Little Miss Sunshine.
#3. The Big Short (2015)



Despite Steve Carell's exceptional work in Adam McKay's The Big Short, it remains a bit overshadowed by the superior performance of co-star Christian Bale. Nonetheless, Carell and Bale provide insanely different perspectives on the housing market collapse that crushed the U.S. economy in 2008. With Carell's character, we're given an emotionally scarred individual with a bit of a loud mouth and cynical attitude. Carell's turn is both attention-grabbing and heart-breaking, allowing the work to serve as a stellar example of his profound acting abilities.
#2. Last Flag Flying (2017)



It was a difficult choice between my #3 selection and Steve Carell's most recent onscreen performance, but I felt compelled to go with his award's worthy turn in Richard Linklater's Last Flag Flying for one distinct reason. While loud and aggressive roles call for attention and often times gets remembered more in the long-run, such as the one Carell delivers in The Big Short, there's something to be said about a quiet and nuanced performance that packs a more meaningful punch. This is clearly the case with Carell's work as a Vietnam veteran coming to grips with the recent loss of his Marine son during the Iraqi war. His work is soft, soulful and simply unforgettable. Perhaps enough so to earn him a second Oscar Nomination in these upcoming months.
#1. Foxcatcher (2014)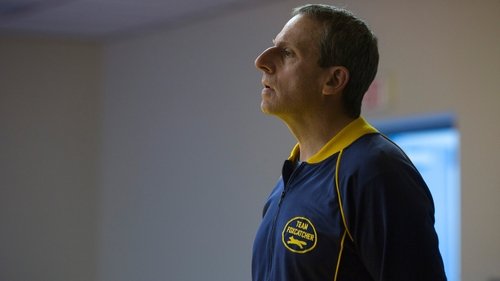 And we finally arrive at the pinnacle of Carell's career. In his lone Oscar Nomination, Carell goes through quite the transformation to take on the neurotic persona of convicted murder John du Pont. In this tragic true story of a lonely tycoon who brings America's finest wrestling talent to his home estate in order to train for the Olympics, Carell masterfully captures the eeriness of du Pont. While motives to the eventual murder have been widely hypothesized, Foxcatcher subtly lays out its theories regarding the crime, but it's Carell's remarkable performance that makes director Bennett Miller's interpretation all the more believable. If Foxcatcher is any indication of the talent we can hope to continue to expect from Steve Carell, then we have plenty more to look forward to in the future.