This morning's announcement of the 2019 Golden Globe Nomations came and went with very little fanfare. In typical Globes fashion the Hollywood Foreign Press conveniently shoehorned films into puzzling categories to ensure all the major contenders and their eventual runner-ups get an invitation to Tinseltown's wildest night among the stars. Consequently, the snubs and surprises tend to be a little lighter in scale than the awards show's big cousin, the Oscars. But still, there were a few brow-raising inclusions and omissions that could impact the trajectory of this year's awards season.

Snubs & Surprises
If there's one major takeaway from this morning's nominees, it's that
Adam McKay
's
Vice
could very well be the unstoppable late-year freight train that barrels through the competition. Leading the way with 6 nominations in total, the film's buzz continues to mount as eager viewers await early reviews prior to its Christmas Day release.
Christian Bale
(Best Actor-Comedy/Musical),
Amy Adams
(Best Supporting Actress) and
Sam Rockwell
(Best Supporting Actor) headline a star-studded collection of nominees to go along with McKay's Best Director and Best Screenplay recognitions that have helped set up a mammoth matchup between
Vice
and the current Oscar frontrunner,
Green Book
(5 nominations), in the Best Picture Comedy/Musical category.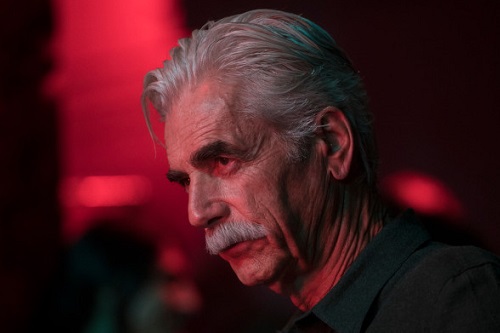 A Star Is Born
fared very well with its total of 5 nominations, yet one major name was left off the list. Longtime actor
Sam Elliott
, who has somehow avoided an Oscar Nomination throughout his entire career, was believed to be in line for his first invitation to the big dance, but the Hollywood Forgeign Press had other plans in mind. Elliott failed to join his director and co-star
Bradley Cooper
(Best Actor-Drama), as well as
Lady Gaga
(Best Actress-Drama), and instead gave way to the unexpected inclusion of
Timothee Chalamet
(
Beautiful Boy
). Chalamet's reputation, fresh off a strong Oscar nomination for
Call Me By Your Name
just last year, may have earned him the nod, but I'm not quite convinced this will be the end of Elliott's long-awaited Oscar hopes.
Alfonso Cuaron's deeply personal ode to his family's nanny that helped raise him as a young boy in Mexico is an unquestioned Oscar contender from the evergrowing powerhouse, Netflix (available for streaming on December 14th).
Roma
's mark on this morning's Golden Globe Nominations did very little to clear up the film's cloudy Oscar prospects. While Cuaron's effort secured nominations for Best Screenplay, Best Foregin Film and Best Director, all of which culminate in a strong showing for the film. However,
Yalitza Aparicio
's miss in the Best Actress-Drama category (at the hands of savvy veterans
Nicole Kidman
and
Rosamund Pike
), as well as competing in Best Foreign Picture rather than rivaling in Best Picture-Drama against a middling
Bohemian Rhapsody
and superhero flick
Black Panther
, makes me wonder if the film isn't quite as adored as the man who made it.
John Krasinski's
A Quiet Place
was both a critical and box-office success, and perhaps that's the only reason the film managed to sneak into the
Best Score
mix, especially over a beautiful and memorable composition by
Nicholas Britell
in
If Beale Street Could Talk
. Furthermore, a complete shutout for Steven McQueen's
Widows
, which has found overwhelming critical success, reinforces the likelihood that the film's Oscar hopes are merely a pipe dream. Meanwhile, many have clamored for
BlacKkKlansman
and
Black Panther
to sneak into the big dance come January when Academy Award Nominations are announced. Both films had strong showings this morning and should continue to be likely Best Picture finalists as we zero get into crunch time.