With the Golden Globes set to air this Sunday evening, Oscar season is officially underway. This time of year is a tribute to the actors, directors, screenwriters and crew that gave us a very strong collection of films in 2019. So, I will do the same. Below, I highlight my favorite screenplays, performances, directors and movies from this past year. Many of which will become fixtures during the awards season, and others are lesser known gems that are certainly worth checking out. And then there are always the few acclaimed films I haven't had a chance to catch yet, ones like
to name a few, that have the ability to shake up my rankings. But here they are, my picks for the best of film in 2019:
#1. The Two Popes
For as stacked as this category is, I'm still gonna lean in favor of Anthony McCarten's superbly penned screenplay for
The Two Popes
. This NetFlix release has fallen beneath the behemoth cracks of
The Irishman
and M
arriage Story
, two major Oscar players, yet its story is as rich as its brilliant real-life characters, Pope Benedict (Anthony Hopkins) and Pope Francis (Jonathan Pryce). Prior to Benedict's papal renunciation, then-Cardinal Jorge Bergoglio (Pope Francis) visits the Vatican with hopes of resigning himself. The two church leaders, who hold vastly different views of their shared religion, embark on an epic days-long meeting discussing life and their darkest inner-demons. While
The Two Popes
is about as true as
Peter Pan
, in terms of historical accuracy, it's an eye-opening examination into these two prominent figures as they try to lead the Catholic Church into the future. McCarten's sweet blend of humor and deep introspection make this dialogue-heavy film a worthy Oscar contender in many categories.
#5.
Peanut Butter Falcon
#4. Once Upon a Time ... In Hollywood
#3. Knives Out
#2.
Marriage Story
And the winner is ...
#1.
Midsommar
Ari Aster's superbly penned screenplay for
Midsommar
is as bizarre, twisted and polarizing as any other major release this year. Following a disturbing tragedy in her life, Dani (Florence Pugh) tags along with her boyfriend and his fellow Anthropology major friends to a commune in Sweden to experience their annual Midsommar festivities. Yet, while there, this rich cultural experience slowly morphs into a hellish nightmare with deadly consequences.
Midsommar
becomes a difficult film to categorize because it's not scary enough to be called a horror and the pacing is too slow to label it a thriller. In fact, Aster's unique entry is more of a dark psychological drama with some disgusting violence sprinkled in. And no matter how difficult the movie is to classify,
Midsommar
is without a doubt detailed, elaborate and a totally hypnotic slow dance of sweet seduction, making it one of 2019's most ambitious and rewarding titles.
Best Supporting Actress
Honorable Mention: Florence Pugh (
Little Women
)
,
Dakota Johnson (
Peanut Butter Falcon
)
,
Julia Fox (
Uncut Gems
)
,
Annette Bening (The Report)
and
Julie Hagerty (
Marriage Story
)
#5. Nicole Kidman (Bombshell)
#4. Margaret Qualley (Once Upon a Time ... In Hollywood)
#3. Scarlett Johansson (Jojo Rabbit)
#2.
Laura Dern (
Marriage Story
)
And the winner is ...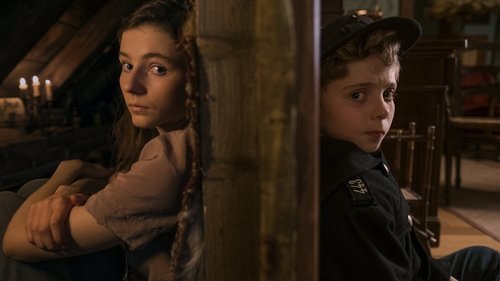 #1. Thomasin McKenzie (Jojo Rabbit)
It's rare for a top pick of mine to be nowhere on the Oscar radar, but this is the case with Best Supporting Actress where up-and-comer Thomasin McKenzie delivers another knockout performance at the onset of her career. Last year McKenzie commanded the screen in Debra Granik's
Leave No Trace
, and followed up with this sensational turn in
Jojo Rabbit
. Starring as Elsa, a Jewish teenager caught hiding in the house of an impressionable boy who wishes to be a great Nazi soldier, McKenzie's storyline is the centerpiece for its film's more dramatic elements. Her sadness, desperation and vulnerability are detectable in every movement and expression. McKenzie possesses a smooth and natural presence on screen, something that goes far beyond her years, and I anticipate a bright future for this young, gifted actress.
Best Supporting Actor
Honorable Mention: Shia LaBeouf (Honey Boy)
,
Robert Downey Jr. (Avengers: Endgame)
,
Taika Waititi (Jojo Rabbit)
,
Zack Gottsagen (
Peanut Butter Falcon
)
and
Jamie Foxx (Just Mercy)


#5. Joe Pesci (The Irishman)

#4. Al Pacino (The Irishman)

#3. Brad Pitt (Once Upon a Time ... In Hollywood)

#2. Anthony Hopkins (The Two Popes)

And the winner is ...
#1. Tom Hanks (A Beautiful Day in the Neighborhood)
Another ridiculously stacked race occurs in the Best Supporting Actor category where even a wowing performance from someone like Shia LaBeouf in
Honey Boy
can't even crack the Top 5. And in this Battle of Titans where any of the five would be a worthy champion, an acting legend returns to the mountaintop. Tom Hanks is flat out dazzling as Fred Rogers in Marielle Heller's
A Beautiful Day in the Neighborhood
. Hanks knocks down the voice and mannerisms of Mr. Rogers with surgeon-like precision, carefully mimicking every idiosyncrasy of the beloved children's show star. In fact, the only downside to Hanks' role is that we feel like we aren't given enough of it. The film is based on the true story of Fred's valuable inspiration and influence on the life of a troubled journalist (Matthew Rhys) assigned to write a puff piece on him. Hanks demonstrates, once again, why he's the greatest living actor as his unbelievable onscreen work will seemlessly transport you back in time to the days of your childhood.
Best Actress
Honorable Mention: Samara Weaving (
Ready or Not
)
,
Saoirse Ronan (
Little Women
)
,
Tatiana Maslany (Pink Wall)
,
Awkwafina (The Farewell)
and
Charlize Theron (
Long Shot
)


#5. Ana de Armas (Knives Out)

#4. Florence Pugh (Midsommar)

#3. Emma Thompson (Late Night)

#2. Renée Zellweger (Judy)

And the winner is ...
#1. Scarlett Johansson (
Marriage Story
)
Some have prematurely chalked up the Oscar for Best Actress to Renée Zellweger for her pinpoint portrayal of Judy Garland, but something tells me that Scarlett Johansson could be a serious spoiler. Her gut wrenching and emotionally honest turn in Noah Baumbach's
Marriage Story
is an absolute tour de force. She's a well admired performer who takes her career to new heights with this performance as well as her outstanding supporting work in
Jojo Rabbit
. While her screentime is limited in the latter film,
Marriage Story
serves as an open canvas of opportunities for Johansson and she takes full advantage of everyone of them starring as Nicole, a teenage film star going through a difficult divorce and custody battle with her husband (Adam Driver). Johansson shows exceptional range and subtle mastery of her craft in every frame, it's truly a performance you can marinate in.
Best Actor
Honorable Mention: Shia LaBeouf (
Peanut Butter Falcon
)
,
Eddie Murphy (Dolemite Is My Name)
,
Christian Bale (Ford v Ferrari)
,
Roman Griffin Davis (Jojo Rabbit)
and
Matt Damon (Ford v Ferrari)
#5. Adam Sandler (
Uncut Gems
)

#4. Jonathan Pryce (The Two Popes)

#3. Adam Driver (
Marriage Story
)

#2. Joaquin Phoenix (Joker)

And the winner is ...
#1. Leonardo DiCaprio (Once Upon a Time ... In Hollywood)
Plenty has been said about Joaquin Phoenix's turn in
Joker
, and it was a difficult choice picking against it (and it would be egregious of me to discount Adam Driver's performance in any way, as his is also of an Oscar-winning level), but Leonardo DiCaprio gives a showing as good as anything he's ever done in Quentin Tarantino's
Once Upon a Time ... In Hollywood
. Starring as Rick Dalton, a television star in the 50s whose transition to feature films hasn't gone quite as he expected and the clock seems to be ticking on his opportunities. That is, until Roman Polanski and Sharon Tate (Margot Robbie) move in next door, if only Rick could somehow make a lasting impression. DiCaprio's character is a walking timebomb, bipolar as hell and immature to the point that he needs his former stunt-double (Brad Pitt) to keep his life in order. The highs and lows of our journey with Rick Dalton come with some unforgettable moments courtesy of DiCaprio's magnificent performance where he's as good as you've ever seen him, and peak DiCaprio is hard to top.
Best Director
Honorable Mention: James Mangold (Ford v Ferrari)
,
Bong Joon Ho (Parasite)
,
Fernando Meirelles (The Two Popes)
,
Anthony & Joe Russo (Avengers: Endgame)
and
Rian Johnson (Knives Out)


#5. Sam Mendes (
1917
)

#4. Quentin Tarantino (Once Upon a Time ... In Hollywood)

#3. Taika Waititi (Jojo Rabbit)

#2. Ari Aster (Midsommar)

And the winner is ...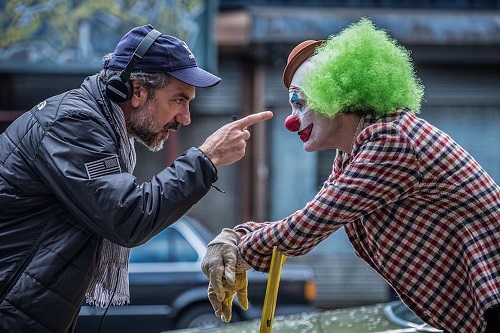 #1. Todd Phillips (Joker)
While most people will pinpoint Joaquin Phoenix as their source for loving the ungodly dark film
Joker
, mine is the mastermind of the whole project, director Todd Phillips. After my first viewing of the film, I was over-analytical and critical of ever tiny detail (especially some ambiguity that arises thanks to the movie's unreliable narrator). Then, I decided to just soak in the experience with a second viewing of the film and that's when I became completely blown away by Todd Phillip's unreal and mesmerizing vision. Everything from the cinematography, to the score, to the costume design, every aspect of the film was exceptional and all the credit in the world must go to
Joker
's director, Todd Phillps. Kudos are in order as the hype train took expectations to a towering level and, still, Phillips delivered one of 2019's signature achievements.
Best Picture
Honorable Mention:
Peanut Butter Falcon
,
Ford v Ferrari
,
Marriage Story
,
Avengers: Endgame
,
Knives Out
,
Uncut Gems
,
Parasite
,
Ready or Not
,
1917
and
Long Shot
#5. The Two Popes

#4. Once Upon a Time ... In Hollywood

#3. Midsommar

#2. Joker

And the winner is ...
#1. Jojo Rabbit
By now, my love for Taika Waititi's
Jojo Rabbit
has been long chronicled. What I can say is this, Waititi gives us an absurdly funny satire that enjoys mocking Nazi fanaticism as much as it intends to break your heart while still somehow inspiring hope. Waititi's adapted tale of a 10 year-old boy named Jojo (Roman Griffin Davis) who dreams of becoming a great Nazi soldier during the closing of World War 2 doesn't sound too funny, and certainly not uplifting. But when you factor in Jojo's closest companion, his imaginary friend Adolph Hitler (played by Waititi), and the fact that Jojo eventually discovers his mother (Scarlett Johansson) is harboring a Jewish teenager (Thomasin McKenzie), you can start to see how everything might fall into place. It's an unorthodox idea that could only be brought to life as wonderfully as it is by the amazing screenwriter, director and co-star, Taika Waititi. We've been gifted a genuinely thoughtful, hilariously expressive and brilliantly-acted film, and one that will surely stand the test of time. Do the right thing and see
Jojo Rabbit
for yourself.